In this era of romantic Movies, Bollywood has been giving us some off-beat cinema that showcases Strong Women Characters. These movies are a gem and pay respect to womanhood, portraying it most realistically ever. Films like that show how inspiring women can get.
Quite a good number of women-centric films have taken the cinema by storm in the past, such as Mary Kom, Dangal, Raazi, or Queen. Over time many directors have come up with many new ideas to showcase how Women are also Integral parts of society, and they are no less than men.
Breaking Stereotypes: Bollywood Movies That Show Strong Women Characters
Here are a few recommendations from our side which you can watch and recommend others to watch too.
1. Parched, 2015
Based on the story of 4 women in a desert village in Rajasthan, the movie is a slap on orthodox traditions like forced child marriages, marital rape, and similar societal evils prevailing in rural India.
Lead actors comprise Radhika Apte, Surveen Chawla, and Tannishtha Chatterjee; the movie has an IMDB rating of 7.6 and, is loved by the audience. You can watch this masterpiece on Amazon Prime. It had its premiere at the Special Presentations section of the 2015 Toronto film festival.
2. Thappad, 2020
The film stars Tapsee Pannu in the lead and is based on one slap when Amrita's(Tapsee) husband slaps her at a party. She sues the husband and files a divorce against him. It shows the adverse realiTEA of many households in India. And guess how parents would react to such films?
Tapsee Pannu nailed her character and gave full justice to it. The Dialogue
"Just a slap par nahi maar sakta"
defines the whole message of the movie. This movie is available on amazon prime.
3. Lipstick Under My Burkha, 2016
This film revolves around the lives of 4 small-town women where they live under societal pressure or restrictions, which kills their passion for doing something big in life.
The title here is metaphoric depicting that, that women will always have a pulsating desire to be free. It stars Konkona Sen Sharma, Ratna Pathak, And Sona Jha in the Lead and has an average rating, 3.5/5. It is available on Prime Video.
4. Pink, 2016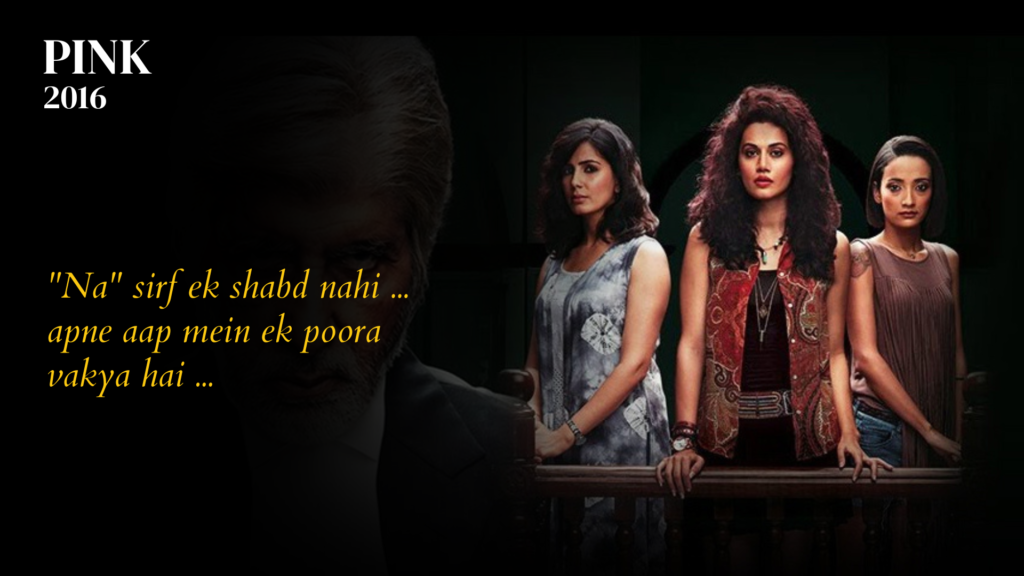 This 2016 masterpiece revolves around a sexual assault Victim Minal. She and her friends file an FIR against the nephew of a politician. Bollywood's Shenshah Amitabh Bachchan plays a retired lawyer. He helps them fight the case.
Tapsee Panu is another lead role. The film is directed by Aniruddha Roy Chowdhury. It has an overall IMDB rating of 8.1. It is available on Netflix, prime, and Disney Hotstar.
In this film, Amitabh Bachchan delivered a famous dialogue, "
Na sirf ek shabd nahi Apne aap ek poora vakya hai. Na ka matlab sirf na hi hota hai"
which shows Misogyny in our society.
5. English Vinglish, 2012
This comedy-drama movie has Sri Devi in the lead, who plays a character named Shashi. She is a small entrepreneur who makes snacks and doesn't know much English.
This incompetence makes her a piece of a joke for her husband and her daughter. After much contemplation, she ultimately resolves to acquire fluency in English, regardless of the expense. This film shows that, Whatever it takes, never lose hope, and With your determination, you can overcome any obstacles anytime.
There are many inspiring dialogues in the movie. It inspires every woman to chase her dreams, one of them was
"Mard khana banaye toh kala(art) aur Aurat khana banya, to uska farz hai".
It is available on Prime.
6. Dangal, 2016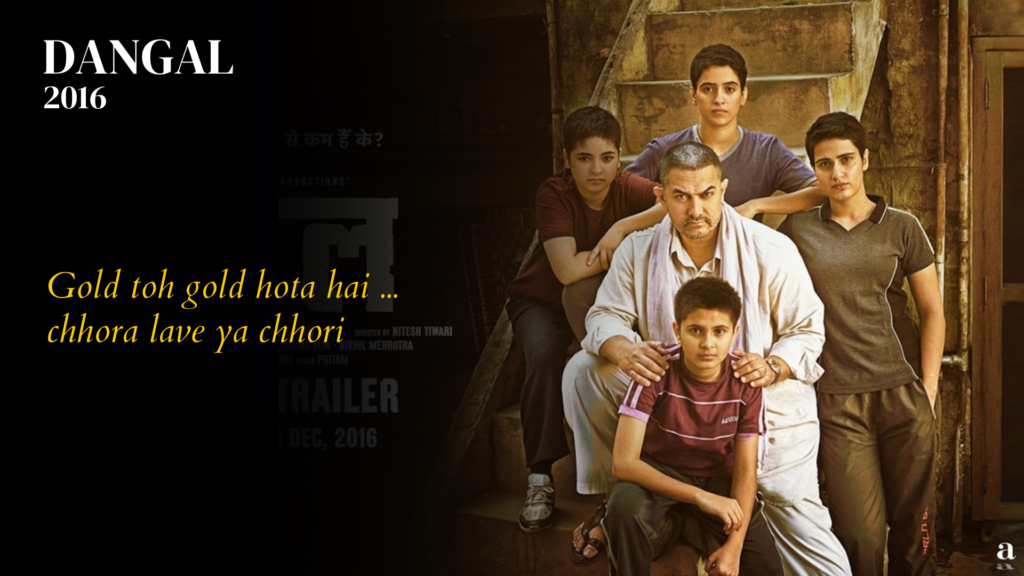 "Hamari choriyan choro se kam hai ke" Everyone remembers this legendary dialogue from India's best movie Dangal starring Aamir Khan, Zaira Wasim, Fatima Sana Shaikh, and Sanya Malhotra in the lead.
This movie revolves around the life of Mahavir Singh and her two daughters. The film takes you on a journey Of how A Haanikarak Bapu trains her daughter to become the best female wrestler in India. It swept four awards at Filmfare.
The movie was showcased at the Beijing Film Festival and went on to become the top-grossing Bollywood film ever. It is available on Netflix.
7. Mary Kom, 2014
It's based on the Life of 6-time world amateur champion Indian boxer Mary Kom and stars Priyanka Chopra in the lead and is directed by Omung Kumar. It shows the hardships of Mary Kom. She went through all the ups and downs to achieve success in her life.
Her story inspires many girls who want to follow their passion and achieve something big in life. How can one forget, "kisi ko itna bhi mat darao k dar hi khatam ho jaae"
The film won many awards and premiered at the 2014 Toronto International film festival. It turned out to be the first Hindi film to screen on the Opening Night of the festival and is available on Netflix.
It is rightly said girls with dreams become women with vision. We have succeeded and progressed a lot, but more is yet to come. The change is on its way. We have taken a few steps towards changing the world for women.
You can recall the past when Bollywood cinema was known for creating kings, while women had an insignificant role. Bollywood has now started creating strong women characters who touch the sky. They have inspired us by bringing their hidden talents in every field to acknowledge their mind-blowing acting skills.
Everything has its pros and cons. No one can stop you when you start focusing on the right thing. Every woman knows how to soar high, but only if society stops letting them down.
Conclusion
They have inspired us by bringing out the true essence of feminism, where women are not depicted as mere objects of desire or side-lined characters, but as strong individuals who have their own voices and choices. These movies not only entertain us but also bring to light the social issues that women in India face on a daily basis. They are a powerful medium to create awareness and bring about change in society.
So, these movies are not just about men wooing women with cheesy dialogues and songs in picturesque locations. They are about women standing up for themselves, breaking stereotypes and making their mark in the world. And if you haven't watched any of these movies yet, you are missing out on some serious girl power, my friend. But hey, it's never too late to join the bandwagon, so go ahead and binge-watch these movies. Ye bhi theek hai, don't worry, we won't judge!