As a Corporate employee, completely de-stressing the cluttered mind once every few months becomes significantly essential. The methods differ from individual to individual for Relaxing on a Long Weekend such as going around the city, binge-watching a movie or T.V., reading, dancing or simply visiting some friends. Do not forget to share reels and memes too.
Anyway, coming back to the point! For me, the idea of exploring a new place is the perfect halt to my routine events for a change. It is the stressbuster I look forward to every year. However, this year is going to be a long one and so to manage the stress, me and my gang decided to plan for two trips to get the annual energy package topped up. Today, I'll tell you about the first of those trips. Now, all those who are a part of the corporate world know that getting a leave of absence for more than a day is next to impossible.
So how did I do it?
Better late than never, after three postponed dates, the trio of us finally set dates for a 4-day mid-April trip. It included a two-day stay trip to the heavenly hills of Mahabaleshwar followed by a one-night stay trip to Pune.
Chaotic Beginning to the Getaway Trip
Booked at a short notice period, we faced issues with train reservations and about an hour before its departure,
We booked a sleeper class bus. Alas, to know that the bus was arriving about 2 hours late. Lowering our expectations, we boarded the bus and expected to reach our hotels by around 11 am.
Here comes the interesting part. Lo and Behold.
The next day, after 20 hours of travel by bus, in the hot summer season we reached our hotels at about 7 pm. Yes, a delay of about 9 hours. Can you all believe that?
If you are reading this and still ask me out on a bus journey,
Unexpected Memories with Nature
Being habituated to waking early, I woke up before the guys and went out for a walk to the driveway of our hotel. As I looked downward, I saw a field with some growth on it.
What surprised me was the sight. What a scene! I have been to many places that are brimming with nature's love but never felt such a peaceful environment.
The scene in front resembled my picturesque memory of a childhood textbook I took learning from – A couple of farmers doing routine farm work. As normal as it might sound, it was the morning with the perfect beginning to the day for me.
I stood there as the child in me absorbed the entire range of colours spread across my span of vision. I felt cherry pink with happiness and excitement as I left the scene to get ready for what lay ahead.
A Spiritual Beginning to Our Adventure
Beginning with the temples first, our first stop was the well-known temples of Lord Mahadev and the Panchganga Temple. Setting a firm base for our trip ahead, we felt the perfect sense of calm that holy places are known to emit. The ancient structures of these temples agreed well with the eyes for setting the aesthetic tone.
After this, we set out on a journey to the many famous points for loading our camera rolls with moments of fun, laughter and friendship. Echo Point, elephant hill point, Arthur Point, three monkey statue point and so many more. Fulfilling that desire of eating maggie among the hills is a high I took from my visit to these points. Quite a few of these points were named after the British personnel from back when Bharat was under colonial rule.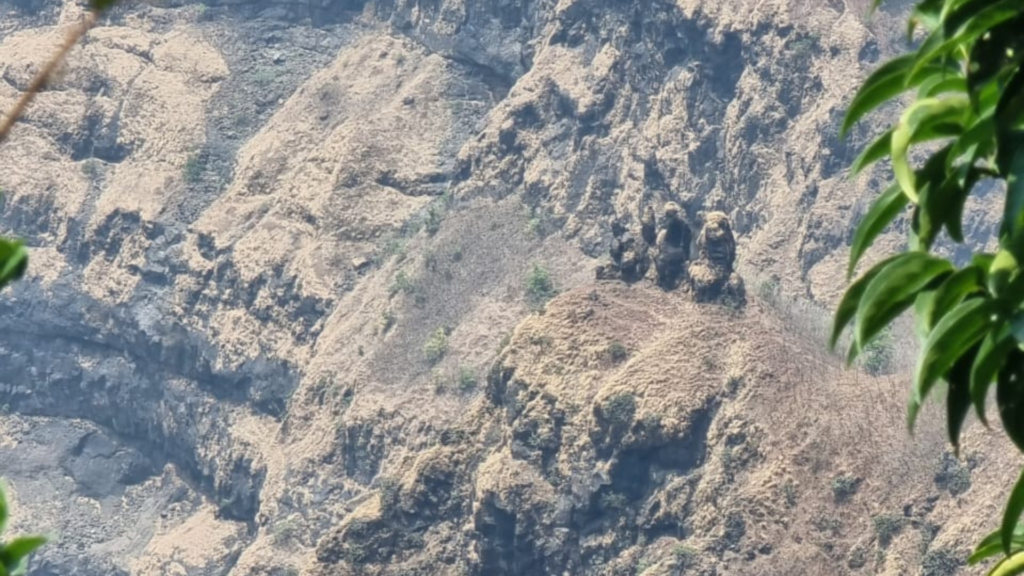 A Shocking Surprise No one asked for
After five hours of travelling, we took a break at the strawberry gardens and enjoyed some fresh strawberry treats. We then went to Venna Lake for some peaceful paddle boating to recharge our energy before the storm.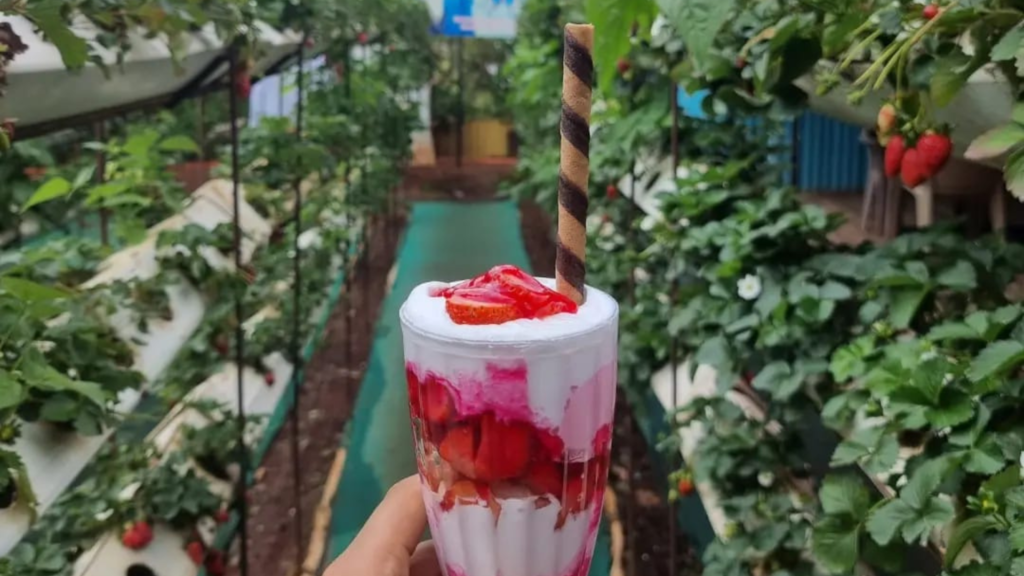 Unaware of the turn of events we were about to encounter, we set out to the higher altitude of Panchgini. Upon entering, the heavens called upon us to have a nice cup of tea as the clouds thundered and heavy raindrops poured down.
Now, you hold on to that thought of us enjoying tea in the rain!
Seems like there was a change of mood as the rain and wind were all hell-bent on blowing away the whole of a tea stall cum snack area. People ran around to get away from the downpour cornering around under the shed. Rains, Thunderstorms and Winds. How worse could it get?
Hold on, did I speak too soon?
Lo, and behold – ice drops fell at a rate enough to bruise the skin.
Gathering pace, wind and rain generated strength enough to pull down horses and trees that fell around us. To think that moments ago we were contemplating going to the renowned table land at Panchgini. We would have been blown like a ragdoll into the wind.
Fortunately, our cab driver who was still waiting there in the cab was experienced enough to drive us through the weather. We braced ourselves and ran into the open to get in our cab and at last, we slowly drove our way out of the danger zone. Whoa! What a lasting memory to witness such an insane form of nature.
Laughing and Shivering our way out, the last stop was the renowned Mapro Garden. We decided on a quick late lunch before heading to our hotel, and what a wise decision it was.
I'd rate the delicacy of Hot Chocolate, Sandwiches and crisp n hot French Fries at Mapro Garden among the best foods I've had on my outings.
The Fun's Never Over Till It is Actually Over, Is It?
Reminiscing over our trip end on my way to Pune, I looked back at the beauty of silly laughter and random conversations. Though I was yet in for another dose of fun to end our trip, I wished the trip to last a bit longer. The human mind can be such a baby about changes.
After a roaring night, we departed Pune to finally return to our home town and routine work duties the next day. However, a few experiences taught us a lot, about ourselves, people and more importantly each other.
Though we may not be the 3 idiots kinda gang, we definitely had been the Trio of bromance and laughter. As I now await the beginning of our second trip for the year, which promises to be notably more happening and fun-filled.
Tell me about your funny incidents and trip stories.