Comedy is one of the basic pillars of survival, isn't it? How many times have you found yourself messed up for maybe some hours, days, or, weeks and ended up laughing, or at least smiling a bit over some funny, statements? Standup comedy has been a crucial part of today's life. Famous Individuals in Indian Politics from every nook of the nation have stirred almost every topic adding a bit of comedy to our everyday lives.
Some of these individuals have gone on to become famous such as Abhishek Upmanyu, Anubhav Singh Bassi, and many more. However, some individuals have first become famous. Given below is a list of such statements and the 'Famous individuals' who issued them. Read on to LOL!
P. Chidambaram says –
"When you can buy ice cream for Rs. 20, why complain about price rise?"
Ohh! We are soo sorry, Lagta hai aapko kisine Chai nai dii aaj!! Koi adrak wali chai dijieye inko toh zara neend khule.
We can't survive on ice creams for our three meals nor put ice creams to run our vehicles, Sapne se jaagiye Chidambaram Ji.
Shiela Dikshit – Ex-CM of Delhi says –
"Rs 600 per month is enough to feed a family of 5"
Haan Bilkul Sahi! Aapke aur Bhide Sir ke zamaane mein. Uss zamane se ab tak, there have been quite a lot of 'feeders' responsible for eating up the value of money.
Rahul Gandhi say – (yeh bolte hi rehte hai)
"Poverty is just a state of mind. It does not mean scarcity of food, money or material things."
Hahaah, Mr. Pappu tumari taraf hum jald waapas aate hai,
Definitions par sidha Chalaang mat maariyee aap
Pehle Mummy se ABCD sikh lijiye
Aur haa, roz Ladoo khana mat bhooliyega!
Mukhtar Abbas Naqvi says –
"Women wearing powder and lipstick are the same as J&K Terrorists"
Isliye acche se neend leni chahiye raat mein. Aur subah bournvita biscuit waghera khaakar hi bolna chahiye. Nahi Zidd nahi, Chai & Coffee are the same as Tobacco and Cigarette!
Matlab bina soche samjhe kuch bhi boliyega aap? It's high time ab, dimaag naam ki bhi ek cheez hoti hai. Usska istemaal kr lijiye.
Rahul Gandhi says (We told you, he speaks a lot) –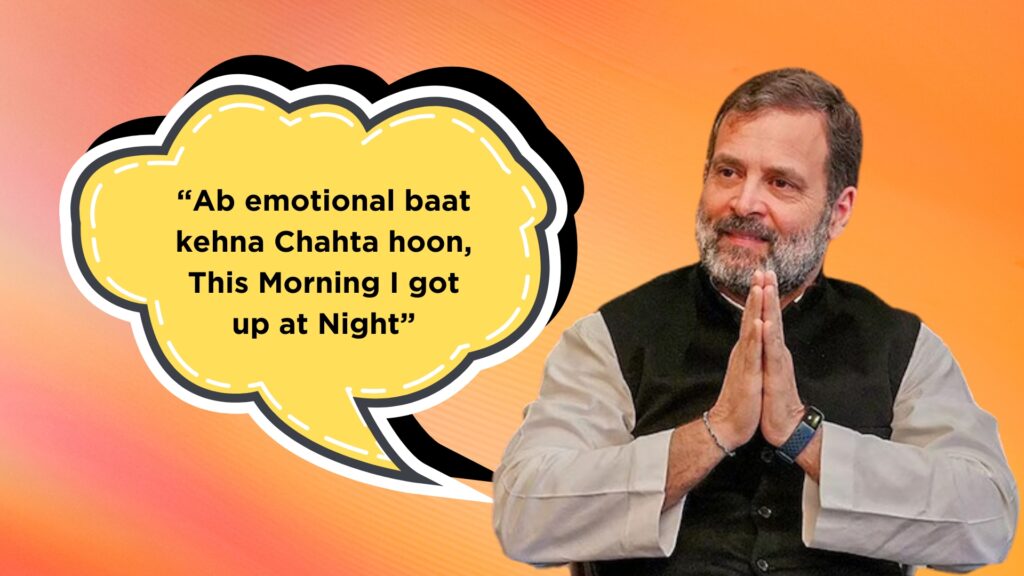 "Ab emotional baat kehna Chahta hoon,

This Morning I got up at Night"

Shri RaGa
Chalo ab jaakar muh pe paani lgalo,
Aur senti nahi honeka Pappu,
Chota Bheem dekhne ka Ladoo khaane ka,
Majhaa ni Life
Beni Prashad Yadav says –
"Dal, atta, vegetables have all become expensive. The more the prices rise the better it is. I am very happy with inflation"
Bas yehi toh bacha tha sunn ne ke liye.
Education policies par lambe bhasan denge hum,
par esa nahi hai ki Economy ka ek chapter uthakar khud padhle, samaj lein
Bas Neta bankar Gyaan dena hain, sahi galat kon sunta hai,
Janta sunti janab, Sudhar jaayein.
Rahul Gandhi (Yes, he does keep us entertained a lot!) says –
Politics is everywhere, It is in your shirt, in your pant, everywhere.
And Logic is everywhere,
Everywhere where there is a healthy active Brain!
PM Narendra Modi says –
"The weather was not good on the day of the airstrikes. There was a thought that crept in the minds of the experts that day of the strike should be changed. However, I suggested that the clouds can actually help our planes escape the radars."
Lagta hai aap abhi tak badalon ki duniya mein rehte hai
Bina matlab ki baatein bolne ki aadat se toh waqif hai hum aapki,
Magar ek baar puch lete kisi se radar ki basic definition,
Khair ab tweet delete krke kya fayda
Chai pee lijiye aap jaakar, bana hi lenge woh toh acchi, haina?
Wese acche din kaha tak pohonche? Iss sadi mein dikh jaayenge humein kiii…….
MLA Surendra Singh says –
"Children are 'Prasad', everyone should have at least Five"
Yeh mandir mein Prasad kam milne pe Kuch bhi bolne lage hai batao,
Koi mithai laa do inko jo pasand ho,
Inke 'Prasad' ke chakkar mein desh barbaad ho jaayega
Satyapal singh says –
"Darwin's theory is scientifically wrong, nobody saw ape turning into man"
Nobody saw you thinking, which means you didn't!
Meanwhile Darwin's soul – It's been a High time since my theory,
Now Man is reverse-evolving back to being Ape
Rahul Gandhi says –
"Jab humarey saamne aantakwaadi aye, hum khade ho gaye saamne, humne aatankwadiyo ko samjhaya, yeh pharak hain hum mei aur unmein"
khade hokar samjhana is the difference. WoW! What a Difference!
Ghar par mile tha ya Kisi party meeting mai?
Toffee de ke samjhaya tha ?
This is the reason Priyanka Vadra has been launched in panic. Pappu's utterances are full time comedy!
lage raho pappu bhai , u r better than any comedian in whole world
Conclusion
As we celebrate Laughter and our Ye Bhi Theek Hai attitude, we should give a good round of applause for every ' Famous Individuals in Indian Politics' as mentioned above out there. Apart from the stand-up comedians and artists, our Indian politics has quite an immense talent of artists who keep us entertained throughout the year. Here's sending out our LOLs – Lots of Love and Laughter to them on this occasion. So, here's to them, and remember, even if things seem a bit chaotic in the political landscape, just say, "Ye Bhi Theek Hai!" and enjoy the laughter!