Bollywood movies have succeeded in entertaining audiences with the stories of the hero taking on the big, bad villains. Ye Bhi Theek Hai, but let's not forget that the malicious characters of popular Hindi cinema have thrilled many generations of viewers in front of the silver screen. And for decades, it was the villains that made the heroes worthy of notice.
We surely have to admit that, somehow, Bollywood villains of the 80s, 90s, and early 2000s just hit differently (by their physical presence).
Keeping that in mind, here are some classic Bollywood villains that still continue to scare us:
Gabbar Singh, Sholay (played by Amjad Khan)
"Kitne aadmi thay? As if putting Gabbar on the list needs to be justified. If Gabbar doesn't define villains, we don't know what does. Gabbar Singh, played by Amjad Khan, is one of the most beloved movie characters of all time. Sholay wouldn't have been Sholay without Gabbar's character. Amjad Khan shot to stardom with the film. His mannerisms and dialogues have become an integral part of Bollywood.
And today also, people say, "Jo Dar Gaya, Samjho Mar Gaya," and more importantly, he is so obsessed with Holi that he always asks his gang members about it.
"Holi Kab Hai… Kab Hai Holi, Kab?"
Shakaal, Shaan (played by Kulbhushan Kharbanda)
Though the movie couldn't win hearts and was a big flop, one character from the movie lived on. Shakaal, with his shiny bald head and his fingers running over it, became one of our favourite villains. Armed with modern gadgets, he maintained a pond filled with sharks and crocodiles, a true representation of a modern-day villain. A badass villain, Shakal is probably the only person remembered from the movie. And well, he deserves it.
Have you seen Kapil Sharma show one character played by Chandu (Chandan Prabhakar), that bald guy, and the famous dialogue "अजीब जानवर है…कितना भी खाए भूख ही रहता है" was inspired by Shri Shakaal ji.
Mogambo, Mr India (played by Amrish Puri)
Amrish Puri was born to be a villain. He was one of those actors who defined Bollywood's most iconic villains that are remembered to date.
Captain Zorro, and they greet each other with, "Hail Mogambo!
Amrish, with his terrifying presence, voice, and piercing gaze, instilled fear not just in us but even in on-screen heroes.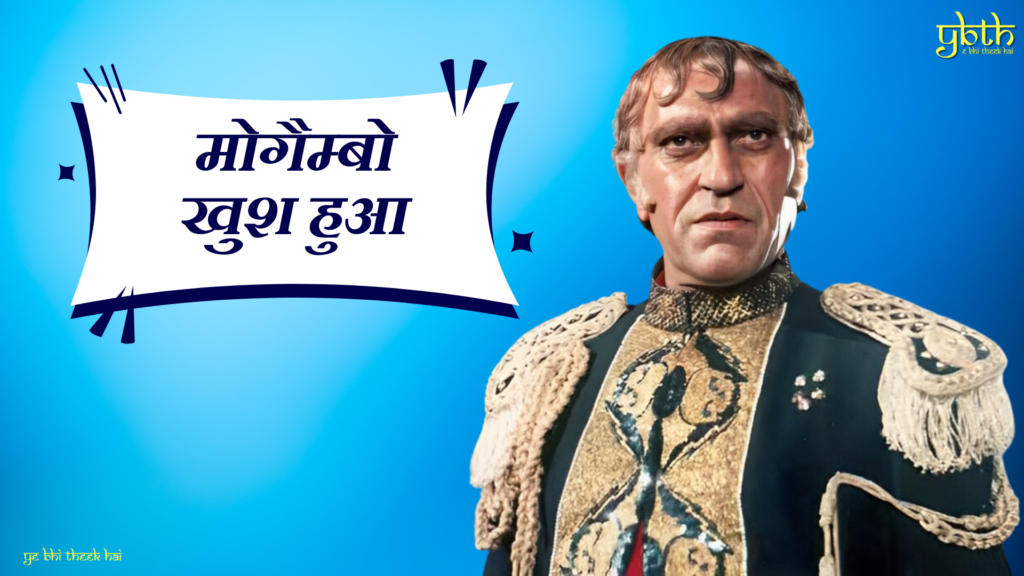 His performances as the criminal mastermind Mogambo in Mr. India and Thakur Durjan Singh in Karan Arjun were insanely intimidating for movie watchers, and he downright looked like the evilest villain there ever was.
Kancha Cheena, Agneepath (played by Danny Denzongpa)
Kancha Cheena (Agneepath), a stylish underworld don, is one of the most talked-about villains even today. His power-packed performance, wicked sins, and on-point costume—everything just added to the role. It was all perfect, or, as we might call it today, it was lit. Apart from all these evil elements, his name, Kancha Cheena, is itself so badass. It just appeals to the audience in every way, and Bakhtawar Singh (Hum) is the owner of docks in Mumbai who considers the people who work for him to be his slaves and thus treats them shoddily. Bakhtawar had the typical habit of smoking pipes. Danny's expressions and acting leave us in awe of him.
Even I think Kancha thinks in the future because nowadays people do things like this.
"Apna ussool kehta hai… agar fayda ho toh jhoot ko sach maan lo… dushman ko dost bana lo."

Sir John, Ram Lakhan (played by Raza Murad)
With over 250 Bollywood films to his name, you can say that Raza Murad had quite a presence as a classic movie villain.
However, one of his most iconic performances that struck a chord with viewers was when he played Sir John in 1989's Ram Lakhan, starring Anil Kapoor and Jackie Shroff.
Raza played the role of a foreign national and a smuggler known to be one of the most dangerous men in the world. His character even had a glass eye to make him look scarier for movie watchers. He succeeded in justifying his role.
His famous dialogue is "Baap, baap hota hai… beta dus janam lene ke baad bhi baap ka baap nahi ban sakta," and I literally felt this after India beat Pakistan in the Asia Cup Super Four match.

Bulla, Gunda (played by Mukesh Rishi)
A tall and muscular build, scary expressions, and a towering voice. That was what all Bollywood villains would like to have, and well, that's exactly what actor Mukesh Rishi had in plenty.
The actor may have played the wonderful role of a good guy in Aamir Khan's Sarfarosh, but his performances as a classic Bollywood villain still remain fresh in the minds of the audience.
"Mera naam hai Bulla, Rakhta hun mai khulla." As cheap as his dialogue sounds to our dirty-minded generation, these lines were on the lips of every guy after the release of the movie Gunda back then. In the end, they kill the boss of the underworld, Bulla. He is arrogant, outrageous, and ignorant enough to use his own baby girl as a shield to protect himself.
These might not be the only Bollywood Best Villians, but they definitely tickle some bones & entertain us every time we tune in to their films! Which one is your favourite villain?