So here is some news that could blow your mind. A trader in Pune has started offering mangoes on EMI – yes, you read that right! Guys, Aam Aadmi (Common man) is selling Aam ( Mango) on EMI, sounds weird as well as interesting right? The trader, claims that this move will help customers enjoy the king of fruits without spending money in their pockets. We spoke to a few customers who have tried out this offer, and their reactions were Mixed.
The trader, who runs a small business, has decided to sell mangoes at a cost of Rs. 200 per kilogram. Customers can purchase as many mangoes as they want with a minimum order of 2 kilograms. The cost of the mangoes will be spread over three months with customers having to pay Rs. 67 per kilogram per month.
The idea of selling mangoes on EMI has surprised many people. but many have also welcomed it as a unique and innovative idea. In a country like India, where mangoes are a popular fruit and a significant part of the summer season, this idea is expected to be a hit among the masses.
How are customers reacting to mangoes on EMI?
One customer said, "I was really excited when I heard about this offer. I mean, who doesn't love mangoes, right? But then when I heard it was on EMI, I was a bit doubtful. I mean, are mangoes really worth taking a loan for? But then, I thought, why not? I can pay it off in installments, and it's not like I'm buying a car or something."
Another customer, who was visibly angry, said, "This is ridiculous! What next, pizza on EMI? I mean, come on! Mangoes are a seasonal fruit, and we're suppose to enjoy them when they're fresh. This EMI thing is just a gimmick to get people to spend more money."
When we reached out to the trader, he said, "I understand that some people might find this funny or weird, but think about it – mangoes are expensive, and not everyone can afford to buy them in bulk. By offering them on EMI, I'm making it easier for people to enjoy this delicious fruit without worrying about the cost."
When we asked him about the interest rate on the EMI, he said, "Oh, it's just a nominal rate, nothing too high. We're not a bank, you know."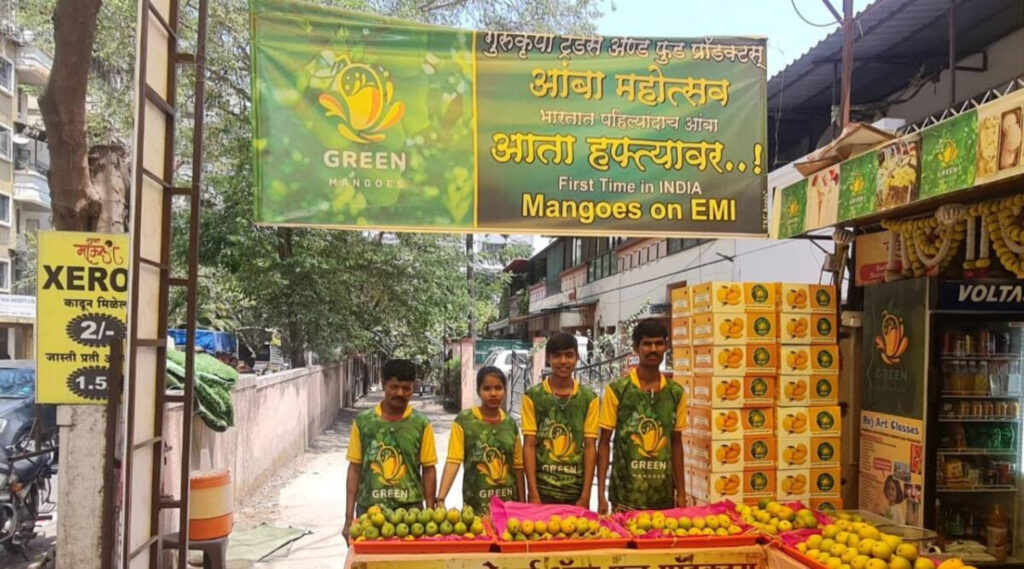 The news of mangoes on EMI has boomed on social media, with people sharing memes and jokes about it. One meme showed a person eating a mango with the caption, "When you realize you have to pay EMI for the mango you just ate." Another joke went, "What're next, onions on EMI?"
But the trader seems undeterred by all the jokes and criticism. He says that he's already sold a good number of mangoes on EMI and planning to introduce more fruits and vegetables on EMI soon . "People want convenience, and that's what I'm offering," he says.
While we're not sure if this trend will catch on, one thing is for sure – the world is becoming an increasingly weird place. Who knows, maybe we'll soon be able to buy everything on EMI, from toothbrushes to toilet paper. And if that happens, we'll have this Pune trader to thank for it.
CONCLUSION
The idea of selling mangoes on EMI is an innovative and unique concept that we expect to be a hit among the masses. Moreover, this initiative will help make mangoes more accessible to everyone, regardless of their financial status, and reduce food waste. It is a win-win situation for both the trader and the customers, and it will be interesting to see how this idea evolves in the future.