Weddings are a joyous occasion, filled with love, laughter, and lots of rituals. There are people like the Popatlal of "Tarak Mehta ka Ulta Chashma" show I'm this world who are eager for their wedding but on the other hand there are some 'Sakht Launde' too who don't care about all this and just want to get what they want. Recently, one incident came to the news where a groom named Rishabh from Bhilwara, Rajasthan decided to shake things up a bit. Instead of sticking to tradition, Rishabh made a rather unusual demand at his wedding – he wanted to listen to Prime Minister Modi's 'Mann Ki Baat' program.
Now, you might be thinking, "What on earth does a political program have to do with a wedding?" Well, that's exactly what the guests at the wedding were thinking when Rishabh made his request.
What Actually Happened?
As the wedding rituals were in full swing, Rishabh suddenly interrupted the proceedings and announced that he wanted everyone to listen to the latest episode of 'Mann Ki Baat'. The guests were stunned. This was not something they had expected to hear at a wedding. But Rishabh was adamant. He had been a die-hard fan of the PM's program for years, and he wasn't going to let a silly thing like a wedding get in the way of his passion.
The guests looked at each other in confusion. What were they supposed to do? Interrupt the wedding rituals and listen to the Prime Minister's program? It was a strange request, to say the least. But Rishabh was not going to take no for an answer. He insisted that everyone gather around and listen to the program.
The Bride's Reaction and the Guests' Response
Rishabh's request equally surprised the bride, and she couldn't help but giggle. But Rishabh was really serious. He had been waiting for this episode of 'Mann Ki Baat' for weeks and he wasn't going to miss it for the world.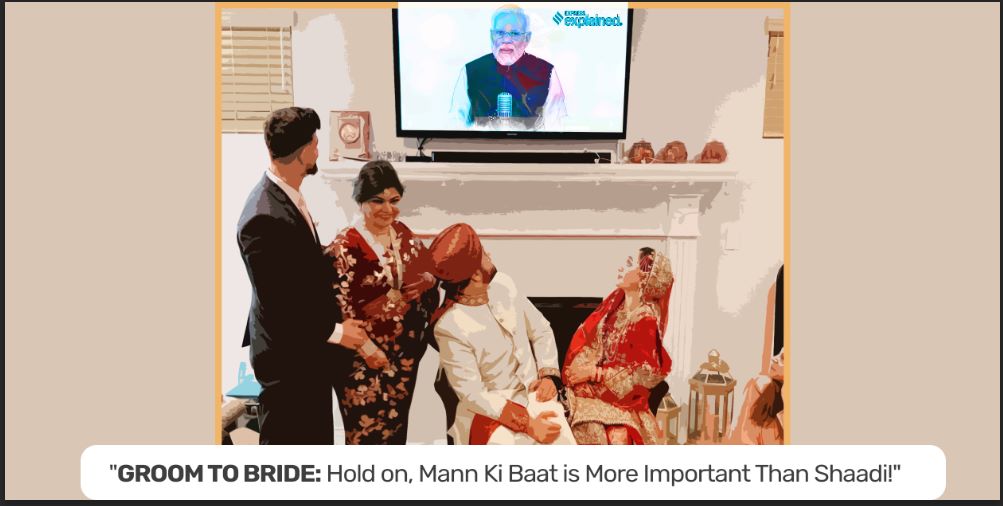 The guests looked around, unsure of what to do. Some guests flung themselves back to their seats, while others followed Rishabh's lead and gathered around a big LED screen that had been quickly set up. The bride and groom took centre stage, surrounded by their guests, all waiting eagerly for the program to begin.
And so, they listened to the Prime Minister's words of wisdom. Some nodded in agreement, while others exchanged puzzled looks. The bride tried to hold back her giggles, but it was no use. This was just too odd for her to handle.
After the program ended, the wedding rituals resumed. But the guests couldn't help but joke about Rishabh's unusual request. One guest suggested that Rishabh should have asked for a special episode of 'Mann Ki Baat' dedicated to weddings. Another guest joked that the Prime Minister should have made a surprise appearance at the wedding.
As for Rishabh, he was just happy that he had been able to listen to his favourite program. "This is the best wedding gift I could have asked for," he declared, much to the amusement of his guests.
Will More Grooms Follow Rishabh's Lead?
"Rishabh's demand for 'Mann Ki Baat' at his wedding might seem unusual, but as they say on – 'Kuch bhi ho sakta hai!' Who knows, maybe in the future, grooms will start incorporating their favourite political shows into their wedding rituals. YE BHI THEEK HAI! After all, it's their special day and they should be allowed to listen to whatever they want. After all, stranger things have happened.