It has been around a year since we first interacted with the three Musketeers: Rishabh, Samyak, and Suhani, managing all the ins & outs of The Crazy Coffee. Do not worry, this RSS is not at all political! They are chill, creative, collaborative & always open to experimenting with their brand, and its relation with customers. The CRAZY never goes down at Crazy Coffee. Three of them make a proper team: Rishabh Sogani, a dedicated founder, Samyak Jain, an equally dedicated Co-founder & tech guy, Suhani Jain, the creative head.
Starting in 2018 with one store, the brand now has 17+ outlets in major cities of India. With the kind of pace they have currently, there is no stopping the PAN India Dream!
Rishabh Sogani, The Crazy Founder
Rishabh Sogani is an ambitious and hardworking individual who embarked on an entrepreneurial journey in 2018 by founding Crazy Coffee. With a humble beginning, Rishabh poured his heart and soul into building the brand from scratch.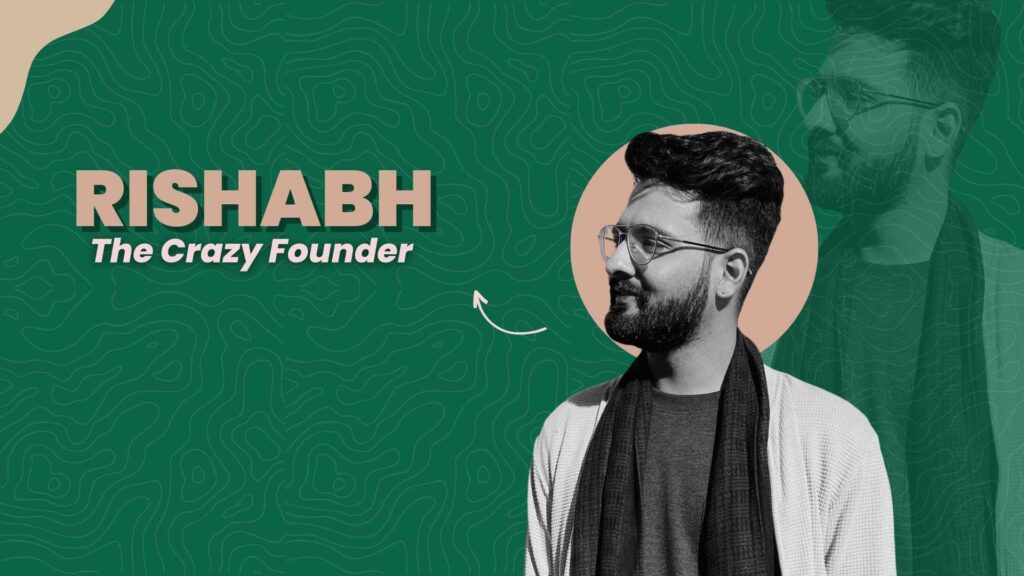 Born and raised in Jaipur, India, Rishabh developed a deep passion for coffee and the art of brewing. Driven by his entrepreneurial spirit, Rishabh is dedicated and determined, & possesses a keen eye for detail and an unwavering commitment to excellence in all aspects of his business. Rishabh's relentless work ethic and his ability to multitask effectively have played a pivotal role in the growth and expansion of Crazy Coffee. Recently, he is all set to get into content creation & personal branding!
Samyak Jain, The Crazy Techie
Samyak Jain, the tech-savvy co-founder and operations manager of Crazy Coffee, is a valuable asset to the company. With his affable personality, technical expertise, and dedication to excellence, he plays a vital role in driving the brand's success.
Samyak's commitment and his unwavering focus on utilising technology to enhance operations position Crazy Coffee for continued growth and innovation. Together with his brother Rishabh, Samyak forms an unstoppable duo, ensuring that Crazy Coffee remains a beloved and thriving coffee franchise.
Suhani, The crazy OG IG Queen
Wife of Rishabh Sogani & the marketing head, Suhani is the creative force behind Crazy Coffee's vibrant and engaging social media presence. An ardent lover of all things creative, Suhani injects a unique and lighthearted energy into the brand's online platforms along with us.
Born with a natural inclination for artistic expression, Suhani has a keen eye for capturing the latest Instagram trends and transforming them into delightful and relatable memes. Every time we meet, she says, "Make it a meme page guys, we won't mind". "Let's be more instant on trends." "Treat it like your page"
Every time Suhani asks me to go all witty: "Ye Bhi Theek Hai"
The Journey of Crazy 5 Years & Ahead!
In just five short years, Crazy Coffee has embarked on an incredible journey, expanding its reach and captivating the hearts of coffee lovers across India. What started as a single outlet has now blossomed into a thriving brand with franchises in various states, and the exciting news is that they're on the verge of going to Pan India soon! With 17+ outlets operating and 5+ in the pipeline, Crazy Coffee demonstrates remarkable growth and success potential.
But it's not just about the numbers; Crazy Coffee has also managed to build a loyal customer base, with a return rate of more than 80%. It's no wonder people keep coming back for that perfect cup of joy, expertly crafted by their passionate baristas. And speaking of rewards, the brand has recently launched an app that takes customer appreciation to a whole new level. With loyalty points and personalized birthday offers, Crazy Coffee ensures that every sip comes with a little extra joy.
Celebrating Coffee's Rise: From One Outlet to Pan India Domination
Crazy Coffee's social media presence showcases vibrant and happy vibes, extending beyond physical and digital spaces. Their social media channels inspire joy with latte art and behind-the-scenes glimpses, reminding us to embrace simple moments. As Crazy Coffee soars higher, we're excited about the brand revolutionizing India's coffee scene and what lies ahead.
Let's raise our cups to Crazy Coffee's journey and toast to the promising future that awaits! Crazy Coffee's unwavering commitment to quality and customer satisfaction is brewing something extraordinary, spreading happiness. Get ready to sip, smile, and embrace the crazy!
Their 2 cents for Aspiring Entrepreneurs
"Grab your favourite mug, raise it high, and toast to your aspirations: where every sip is a reminder to embrace the crazy and find joy in the perfect blend of beans and dreams. After all, life is too short for mediocrity!"