Watching Bollywood celebs Cannes Look is like being in the middle of a tsunami of fashion. They elevate the red carpet's flair and drama to a whole new level. The traditional Indian runway meets the cutting-edge runway, as though two worlds have collided.
Whenever a Bollywood celebrity walks the Cannes red carpet, you never know what to anticipate. Will it be a stunning saree that cascades like a beautiful waterfall or a dress that is so opulent it might pass for a wedding cake? The tension is genuine!
Not to mention the stunning jewellery that these celebrities wear. Their jewellery game is strong! You'll come across diamonds larger than your dreams and jewels that are brighter than the sun.
But despite all the glitz and grandeur, humour is always present. It occasionally seems as though Bollywood stars are secretly competing to see who can wear the most ornate costume without falling over. Their balance and grace prevent them from falling off the edge of their own fabulousness, making it similar to walking a tightrope in fashion.
Not to mention the bizarre fashion incidents that make us doubt our sanity. Bollywood Celebs Cannes Look are masters at keeping us on our toes with clothes that resemble upside-down lampshades and avant-garde designs that defy all reason. You'll never want to get off this ride on the fashion rollercoaster!
However, fashion is all about individuality and taking chances. Therefore, kudos to the Bollywood celebrities for embracing their distinct style and keeping us amused. After all, Cannes wouldn't have the same fashion fireworks without them. Bollywood, congratulations.
SARA ALI KHAN
As she wore a lehenga for her Cannes red carpet appearance, Sara Ali Khan took a page from a vintage book of bridal dresses and appeared like a full-on beautiful desi bride. Although she was lovely and graceful on the red carpet while wearing an Abu Jani-Sandeep Khosla collection, we believe she could have paid respect to her Indian heritage by wearing something riskier. It was after all her premiere, and nothing says "hello" like a unique piece.
She limited the rest of her accessories to a minimum so that her costume would stand out on the red carpet for those who are interested in the specifics. She accessorised with stunning drop earrings, but her long-trail lehenga spoke for itself!
URVASHI RAUTELA
She surprised everyone on the red carpet when she showed up for the photocall for her film, the Parveen Babi biopic, wearing a vivid pink tulle gown created by famed Parisian designer Sima Couture and accessorised with crocodile jewellery from Cartier. Her pink tulle dress resembled Deepika Padukone's neon green outfit from a previous Cannes appearance. Urvashi finished off her appearance with a tidy bun and some unusual (read: eye-catching) jewellery. Many people believed her Cartier crocodile cum lizard neckpiece, which she wore with her incredibly feminine dress, was horrible. Like, ESI BHI KYA ZARURAT THI BHYII….NECK M LIZARD PEHANKAR KON GHUMTA HAI.
ESHA GUPTA
Popular Bollywood actress Esha Gupta made a stunning impression on the red carpet at the famous Cannes Film Festival. She graced the occasion in a stunning Nicholas Jebran all-white gown. The dress had a captivating flowery bodice, an elegantly enormous neckline, and a daring thigh-high slit. Esha Gupta's look stood out as the most notable among the Indian girls who walked the red carpet on the first day of Cannes, creating a lasting effect on everyone who observed her stunning presence.
MANUSHI CHHILLAR
The actress and former Miss Universe Manushi Chhillar stunned on the red carpet at Cannes while wearing a mesmerising snow-white fairytale gown by Fovari. The dress had a lovely lace bodice and a trailing skirt that flowed elegantly to the floor. Manushi chose a pair of eye-catching heels to accentuate her outfit. Although we liked her clothing, especially the shoes she chose, there might have been a little space for improvement as she is a former Miss Universe. Nevertheless, she looked stunning overall, making a lasting impact at the renowned event.
SUNNY LEONE
Sunny's mesmerising presence at Cannes added a bright warmth to the event. She looked amazing in an eye-catching green one-shoulder dress with a thigh slit. She wore the satin material wonderfully, adding the perfect number of accessories to finish off her stunning look. Maybe she could have looked like broccoli in that green dress as expected but beyond expectations, she was really looking fabulous.
AISHWARYA RAI BACHCHAN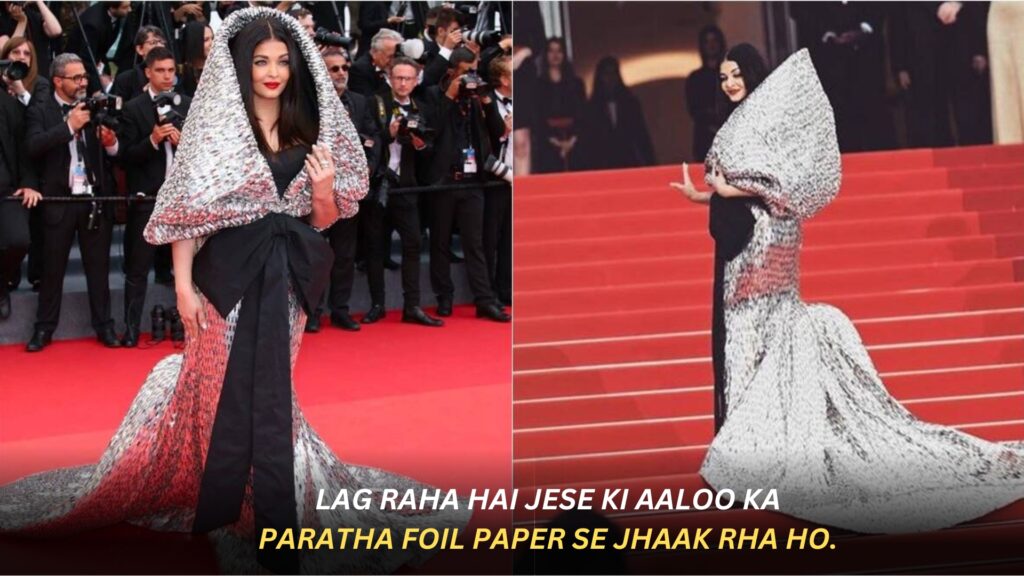 Actress, who is renowned for her elegant red carpet looks, arrived at Cannes in elegance wearing a lavish Sophie Couture gown. The 49-year-old actress dazzled with an elegant silver gown with delicate aluminium elements, which gave it a hint of ethereal beauty. Her outfit gained fascination from the gown's long flared tail and distinctive "mystical hood" attachment. Her waist was highlighted by a huge black bow, which was exquisitely paired with the brand's iconic black corset to complete the mesmerising appearance. Aishwarya once again demonstrated her classic elegance and fashion-forward choices on the red carpet. Many fans compared her to LAG RAHA HAI JESE KI AALOO KA PARATHA FOIL PAPER SE JHAAK RHA HO. But despite all these comments as they are just for fun, we can't deny that she is soo adorable.
CONCLUSION
Bollywood Celebs Cannes Look put on an incredible show of style and glitz at the Cannes Film Festival. Esha Gupta stunned on the red carpet in an all-white Nicholas Jebran gown, while Manushi Chhillar grabbed attention in a fantasy-inspired Fovari gown. Sunny Leone generated warmth with her captivating appearance in a green one-shoulder thigh-slit gown. Aishwarya Rai Bachchan, who is renowned for her opulent red carpet fashion, radiated elegance in a pricey Sophie Couture gown. Each actress brought her own distinct charm and sense of style to the prestigious occasion, making an impression with their flawless outfit selections and transforming the Cannes red carpet into a true showcase of Bollywood glitz.
And they did it all with a flair that made us say, "Ye bhi theek hai!"