Did you ever read an obituary and started hallucinating the dead person in front of you? Not me. Hopefully you have not either. The protagonist, Nell Serrano for the new TV series, Not Dead Yet, however, experiences that. Yes, you read it right! Nell is a writer who write obituaries and she can see and talk to all the people that she is writing the obituaries about.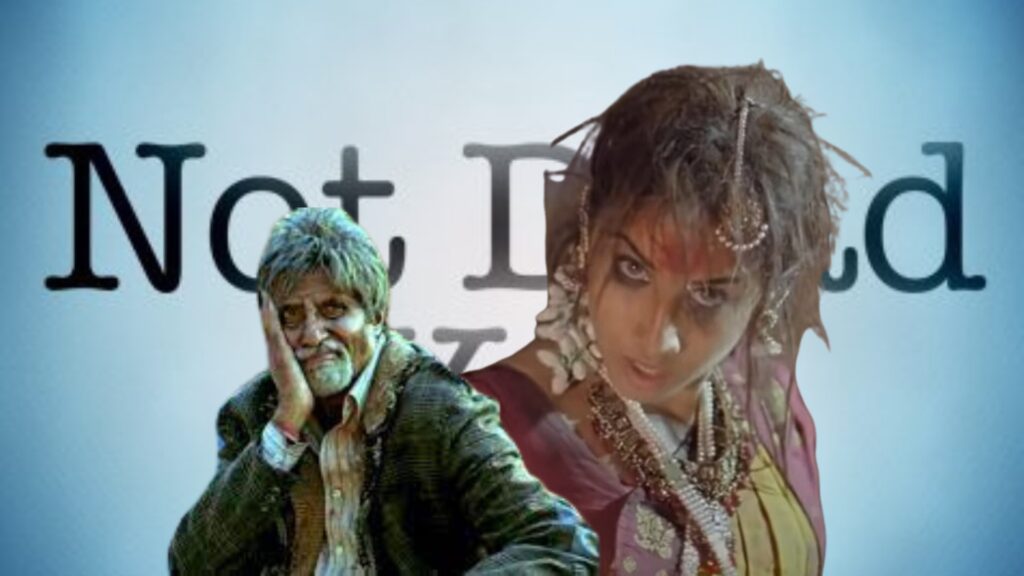 Arey lekin darna mat, the show is not what it sounds like. Simply put, you'll see less of Manjulika here and more of Bhootnath.
After all, it is a sitcom and a good one at that.
Cast
One of the reasons that this Not Dead Yet review is not disappointing yet is because of the cast. The producers and casting directors made the right choices while chopping these people to play these lovable characters.
Here's a list of the faces that you'd see in this TV series.
Nell Serrano portrayed by Gina Rodriguez
Gina also starred in the hit TV series "Jane the Virgin" and did voice acting in movies Smallfoot and The Star.
Sam portrayed by Hannah Simone
She starred besides Zoey Deschanel in the hit American TV sitcom New Girl.
Edward portrayed by Rick Glassman
The goofy guy Rick Glassman can be seen in another series called Undateable. Rick also hosts his own podcast, Take Your Shoes Off.
Lexi portrayed by Lauren Ash
Lauren Ash is a famous name in the American TV industry. She has starred in Superstore, Another Period, and Spun Out.
Dennis portrayed by Joshua Banday
Joshua Banday acted earlier in the TV series Upload. He also appeared in Mom, The Big Bang Theory, and Man with a Plan.
Cricket portrayed by Angela E. Gibbs
Her face has been seen in many other shows like NCIS, Black Jesus, and Bones.
TV Series Premise
You have already been introduced to the show's protagonist, Nell. She has come back to US after five years after she goes through a failed engagement with her long term boyfriend, Philip. In the course of these 5 years, a lot has changed, Nell who had big plans for her future is now broke, living in a small apartment with a roommate who's not really a highly excited person. (But, he is a cutie). Nell also notices some changes in the friendship's dynamics of her best friend Sam. Thankfully, they are not fighting, but Nell has been introduced to a third person who is slowly becoming a part of the gang.
Agar aap soch rahe ho ki ye teesri shakshiyat koi sophisticated aur high attitude vaali ladki hai toh aap bilkul sahi ho. 
But the twist does not end here. This person is none other than the direct superior and boss of Nell, Lexi. Years ago when Sam and Nell were working together at SoCal Independent, Lexi used to be someone that they used to gossip (bitch) about but, during the course of five years, Lexi become the editor in-chief of Social Independent. Additionally, Lexi and Sam grew close to each other because they are both mothers and both their daughters go to the same school.
At least one thing worked in Nell's favour, her roommate is a man. She was already used to living with a man, so this was not going to be difficult for her. Or, so she thought. Nell's roommate, Edward is a direct and straightforward man.
Sheldon Cooper's intelligence + Jake Peralta's cuteness + his own uniqueness = Edward. 
It takes her some time to adjust with her roommate's rules for how to do things around the house but soon, they both find a good friendship in each other's company.
While she is trying to make new friends and adjust into the old ways with a new outlook on life, something massive hits her that she was not ready for. Upon receiving her first assignment, she suddenly sees that she can see the man in front of her. This man, who is dead, not supposed to be dead, but is definitely dead, is standing in front of her.
Hmm, Nell can see ghosts. Nell can see ghosts of the people who she has to write obituaries about. The desi jugaadu in me is thinking that I was at her place, I would have have made them tell me everything they wanted me to write and I would have written that. Guess Nell is writing her own Not Dead Yet review in this way huh!
As the show progresses, Nell starts to see many ghosts, all of those people that she has to write about. She juggles between keeping this bizarre happening a secret and trying to live normally with her friends.
Not Dead Yet Review: My Thoughts
Gina Rodriguez is a popular name over in the states, her show Jane the Virgin was loved by many. Similarly, Hannah Simone also made a name for herself as Cece from New Girl. Personally, these two people were enough for me to satiate this series.
I started watching this show with the hopes of feeling absolute disappointment over it. But to my surprise, the show did not deliver on those hopes. It had been a long time since I found something funny, creative, and light-hearted. Nowadays, when a lot many shows make it their mission to include as many political statements as they can, Not Dead Yet, kept the unnecessary wokeness aside and gave the viewers genuine laughter. I never consume excessively, but this one did not let me turn away from the screen at all.
The dynamics between the cast members is something that I enjoyed. It felt natural and easy, it was as if these people actually met each other very first time and they actually got along well. Many might think that the pair of Gina and Hannah together would make a duo where the "pretty" one would end up stealing the limelight though, that was not the case. I found it commendable that Gina as Nell and Hannah as Sam made a duo that made me feel like they had been friends for a long time. They were supportive of one another, they lifted each other up, they laughed together and they cried together.
BRB, thoda cry aa raha hai, time to call my BFF.
The Not Dead Yet review is incomplete without mentioning something that a lot many TV series miss all the time. It is the friendship between the roommates, Nell and Edward. All the while that I was watching the show, I was on edge hoping that the TV creators would not make them end up with each other. It was a slippery slope and boy, it was not easy clenching my jaw every time the two got too close to each other. But, even till the end, they did not end up together. Phew!
As mentioned earlier, the show does not try to shove fake wokeism in the viewer's faces. These days, people on the internet, YouTube, and Instagram are talking a lot about self-love, self acceptance, and self awareness. The TV series, Not Dead Yet also included these elements in the storyline. From the beginning, we see Nell trying to accept the changes around herself, even though a lot has changed; and, she has faced many hardships in the past, she hopes to look to the future with a positivity in her mind. This change was because of the advices she got from her her ghost buddies as well as the ones who were alive, she took the wheel in her hand and set into a direction that she wanted to go in.
Conclusion
If you are looking for a quick laugh and some pure moments, this show is for you. Not Dead Yet brings something new to a sitcom including some lovely ghosts. With some familiar and some new faces, you'll see a combination of wholesome people coming together to make something worthy of your time. Agar aapko ye TV series dekhne ke baad kuch bhoot dikhne lage toh, Ye Bhi Theek Hai!