For a few years now, Netflix has become home to some of the boldest movies of Indian cinema. Maybe it is because there's no censor there (hope no one changes that), storytellers get to tell audacious & quirkier stories. One such story was Lust Stories, a very unconventional, bold & at times absurd (remember Kiara Advani's short story?). Now, with a sensational star cast, Netflix has released the second part of this series. Lust Stories 2 brings to you 4 different stories exploring the lustful desires of people from different walks of life. Mild spoilers ahead.
Story 1 – Made For Each Other
Director – R. Balki
Starring – Mrunal Thakur as Veda, Angad Bedi as Arjun, Neena Gupta as Dadi
Mount Fuji hua?
It's the question Dadi keeps on asking in R Balki's story in Netflix's anthology series Lust Stories 2. In R Balki's story we see a couple, Veda & Arjun, before marriage trying to figure out if they're sexually compatible.
Sex is taboo in India (weird for a country with population of 150 crore), people still can't talk about sex without giggling. It's high time someone made a movie about it without making it overtly sexual like the early Emraan Hashmi movies or crude ones like Grand Mastii. So it's refreshing to see Neena Gupta saying things like,
एक छोटी सी गाड़ी लेने से पहले टेस्ट ड्राइव करते हो ना, तो शादी से पहले नो टेस्ट ड्राइव?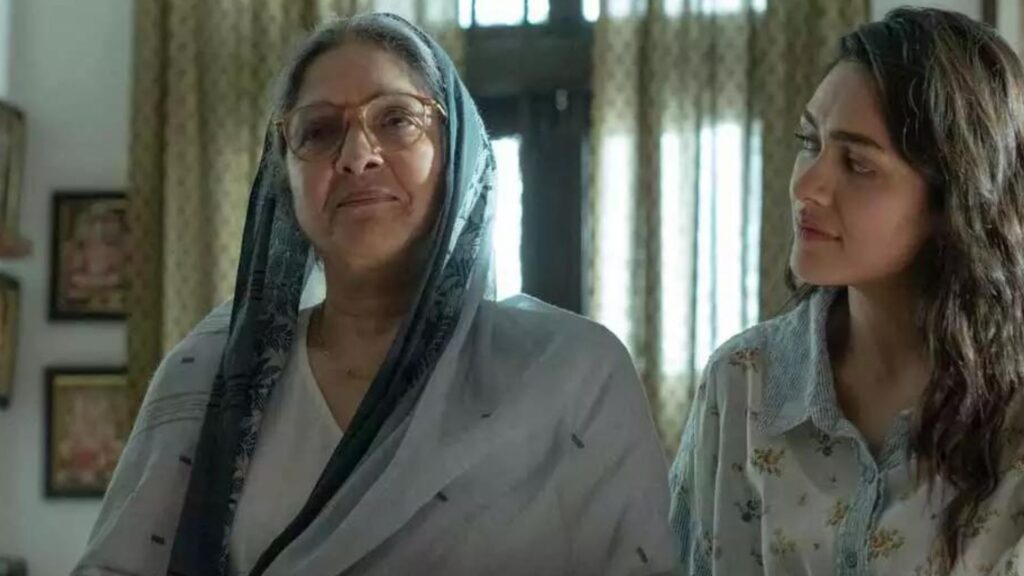 Even though, Mrunal Thakur & Angad Bedi are gifted actors, R Balki knew the hero in this was Neena Gupta & Neena Gupta only & boy is she having fun with it.
Like Ki & Ka & Cheeni Kam there are a lot of serious conversations hiding behind the light-hearted fun story such as, "Is knowing everything about a person apart from their sexual compatibility enough to marry them?" "Is sex the only thing that can save a marriage from breaking apart?"
R Balki keeps it fun & light in Lust Stories 2. But there are some serious questions asked & he does make statements like, "Depressing se better hai embarrassing hona" said by Dadi about having a healthy sex life. It's interesting to watch a movie where sex is talked about, not for dirty jokes or situational humour, but as a serious conversation point & something that should be talked about more openly. So it's a good watch if you want to be a little more open about these topics.
But if you don't want to ruin Mount Fuji for yourself, maybe stay away from it.
Story 2 – The Mirror
Director – Konkana Sen Sharma
Starring – Tillotoma Shome as Isheeta, Amruta Subash as Seema
If I were to talk about it with someone, I'd have nothing to say. It's that good. Konkana Sen Sharma knows how to write characters that are real but at the same time feel otherworldly. It felt as if she really added a raw & honest story in Lust Stories 2.
Isheeta comes home from the office one day to see her maid Seema, having sex in her bedroom. However, she doesn't go in on them in rage & fire her. Rather, she starts watching them have sex, regularly. There aren't many dialogues between characters exactly as it was in director's A Death in Gunj. But, the story moves forward & tension builds.
Konkana Sen Sharma handles it in a very delicate manner. She worked her way around the story in a gentle way. She does not make us hate a character or like them particularly based on their actions & just keeps it grounded. In a lesser director's hands it could've become a story of deceit, deception & mind games. Konkana doesn't let it go there & keeps it simple & engaging.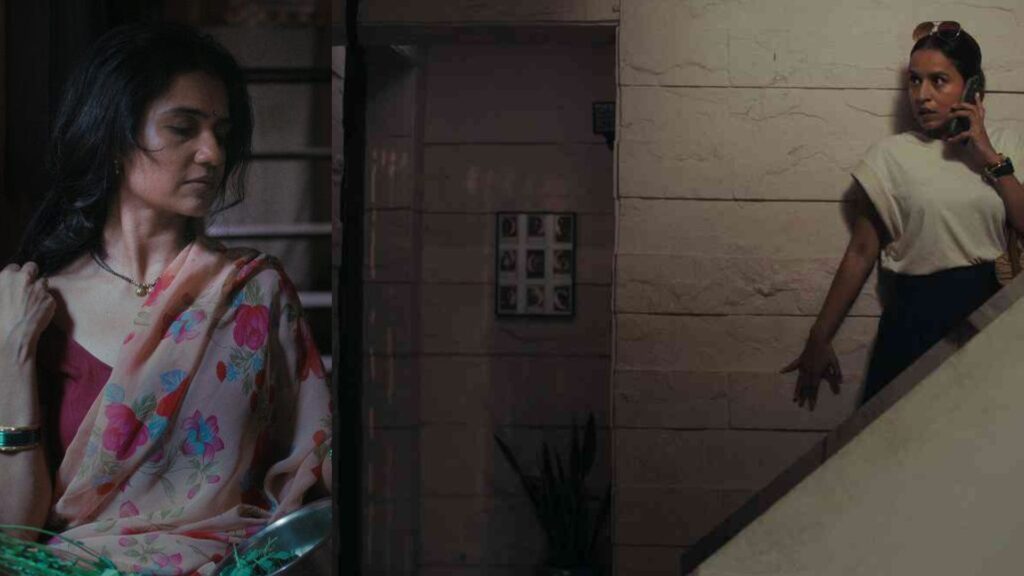 Both Tillotoma Shome & Amruta Subhash shine in their roles. Through their lives Konkana shows a subtle commentary on loneliness & desire in a big city. Isheeta is mostly alone in her scenes & Seema has her own issues to work out. Both played their parts to perfection as the leading ladies.
In short, it's a great addition to the series & my personal favourite part of Lust Stories 2. And for the fans of Konkana Sen Sharma, look for certain someone named Sameera.
Story 3 – Sex with Ex
Director – Sujoy Ghosh
Starring – Tamannaah Bhatia as Shanti, Vijay Varma as Vijay Chouhan
Maybe it's my fault but when you've watched a lot of such genre movies, you start predicting how the story is going to unfold. And boy was I right. It's no longer fun if you already know how it ends. And NO! you really can't say ki Ye Bhi Theek Hai. Not allowed guys!
It starts with Vijay (a bold creative choice naming him btw) going to meet his mistress. Just then, his wife calls him (men, am I right?). But then the twist. He gets into a car accident & what follows is one of the most bland & dull works of modern cinema.
He finds his ex-wife, Shanti in a nearby village & the mystery (if you want to call it that) begins. It begins in a dreamlike landscape which doesn't help the story. Moreover, this ruined a little more of the mystery that could've been built. Then we see the usual, methodic & mundane story about deception, unnecessary sex & with no real flair.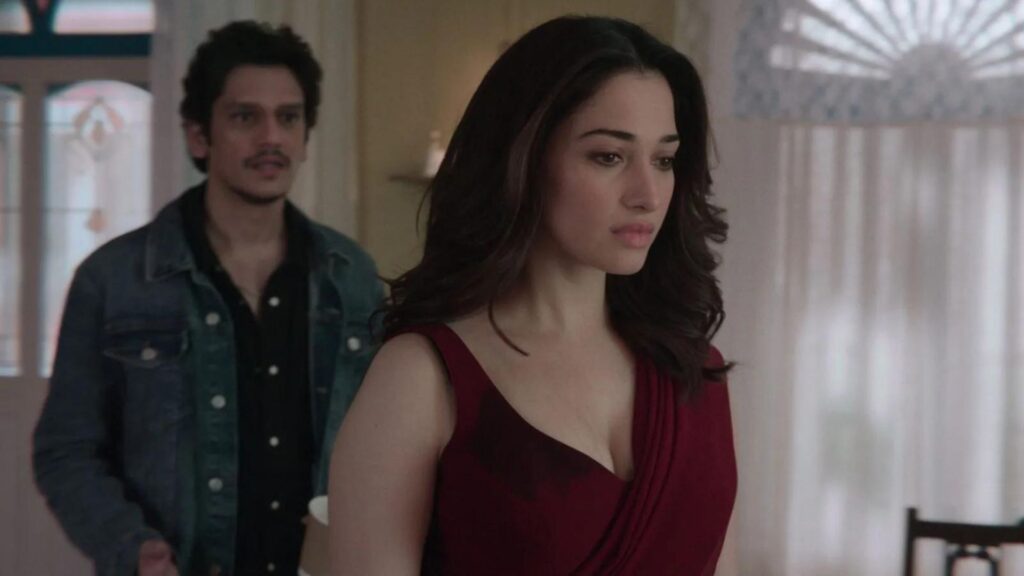 Maybe I'm angry because I don't expect a director of Sujoy Ghosh's calibre to make a dull, lifeless movie that takes itself too seriously. It doesn't really satisfy (sorry to bring it up but we're talking about Lust Stories here). There's no guessing what'll happen next, because you've already seen the twist coming from a mile away.
In short, if you want to watch a short film that has deception & uses its dreamlike atmosphere for a good story, watch Ahalya by Sujoy Ghosh, the same director who made Kahaani. Sex with Ex, on the other hand, was made by Sujoy Ghosh, the director of Kahaani 2.
Also, my deepest & sincere apologies to anyone jinka Mount Fuji hua after watching this.
Story 4 – Tilchatta
Director – Amit Ravindernath Sharma
Starring – Kajol as Devyani Singh, Kumud Mishra as Suraj Singh, Zeeshan Nadaf as Ankur Singh
It's bizarre to think that someone who directed a light-hearted comedy about an overage pregnant woman (Badhaai Ho) can make something like this but here we are.
Amit Ravindernath Sharma story narrates the life of a sex worker turned Maharani of sorts. Devyani who wants to get rid of the life that her husband, the king, Suraj Singh has forced her into. To get out of these shambles & chaos she is hoping to send her son Ankur to England. What follows is a devious tale of treachery & deceit in a delicious way. No character in this story is purely good or evil, everyone is just a shade of grey which so weirdly satisfying to watch in a story about dreams.
The characters acted well, & kudos to Amit Sharma for writing them to near perfection. Moreover, a special shout out to Anushka Kaushik who is so good, even when sharing screen with legends like Kajol & Kumud Mishra.
Barring the usual storytelling tropes, it's definitely a great story but it could easily have been a feature film with a little more effort & I'd have definitely watched it. It's wicked.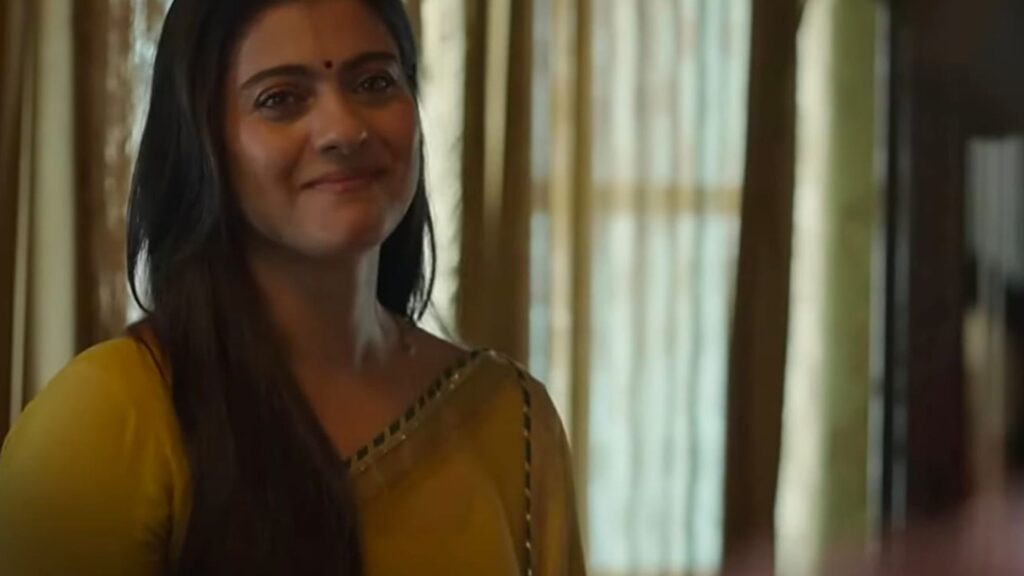 Let's Be Honest Now..
So, the thing about Lust Stories 2 is that it is not Lust Stories. Although, do give it a shot if you're free & try having a shot whenever Mount Fuji is mentioned, hopefully you'll be drunk enough to withstand Sex with Ex. And parents if you're worrying if to watch it with your children or not, don't. They've already watched it. Lastly, I think we can all collectively agree on one thing & that is…