Did you ever wonder how all queer and trans people have the best clothes? It's not just about the colours, it is everything about them. They have such a unique style and design. The details of the fabrics and the comfortable yet sophisticated look of these LGBTQ+ fashion is something that is praiseworthy.
"The LGBTQ+ community in India is estimated to be around 20 million people.
"The LGBTQ+ community is a growing market for fashion brands in India.
"The LGBTQ+ fashion industry is growing at a rate of 20% per year.
Thread Between Fashion and LGBTQ+ Community
Fashion is an ever-evolving field that is influenced by various factors, including popular culture, art, music, historical trends, social movements, and individual expression. It is shaped by designers, brands, influencers, and consumers who collectively contribute to the creation and diffusion of trends and styles.
Fashion is a form of self-expression and creativity through clothing, accessories, hairstyles, and other personal adornments. It encompasses a wide range of styles, trends, and aesthetics that individuals adopt to reflect their personal tastes, cultural influences, and societal norms. Fashion encompasses clothing, presentation, and style choices that contribute to an individual's overall appearance and self-expression.
Fashion offers a platform for individuals to express their unique identities and personal style. Many LGBTQ+ individuals have used fashion as a means of self-expression, embracing clothing and accessories that align with their gender identity, sexual orientation, or personal aesthetics. Fashion allows them to visually communicate their individuality and challenge societal norms.
LGBTQ+ fashion breaks societal gender norms, empowering individuals to express themselves authentically and creatively. LGBTQ+ individuals, particularly those who are gender-nonconforming or transgender, use fashion to express their gender identities authentically. They may experiment with clothing, styles, and aesthetics that challenge the binary understanding of gender.
If you think that sarees and skirts are only for women, think again. While you're there, don't forget to have a look at women in suits. Oof, I can't take my eyes off of them, they look so confident too!
They are jealous because I am pulling this look better than them.
Hey, hey, did you know that there's a relationship between your self-image and clothing style?
Finding clothing that reflects one's authentic self can contribute to feelings of empowerment and confidence. For many LGBTQ+ individuals, fashion can play a crucial role in building self-esteem and a sense of belonging. By expressing themselves through fashion, they can celebrate their identities and challenge the societal pressures which are a part of their daily struggles.
Indian LGBTQ+ Fashion Influencers
There are many fashion influencers who are gaining popularity these days. These influencers have expertise or a strong passion for fashion, and they use their platforms to inspire and influence their followers' fashion choices. The work of these influencers includes many things, they do unboxing videos, give product reviews and recommendations. A lot of them attend fashion events and shows to spot what is latest in the world of fashion. They are observant of the changes happening in the fashion world.
Here are some influencers that you should follow to have accurate fashion forecasting.

Shushant Divgikr was crowned Mr. Gay India in 2014, they were also listed in the Forbes 30 under 30 in the year 2020. An Indian model, singer, and drag queen. They go by the stage name of Rani Ko-HE-nur and have been an LGBTQ+ activist and fashion influencer for a long time. These influential individuals have been vocal advocates for LGBTQ+ rights and have used their platform to promote inclusivity and diversity in the fashion world.
Sushant Divgikr identifies as gender-fluid and openly expresses themselves through their performances, fashion choices, and advocacy work. They have been actively involved in raising awareness about LGBTQ+ rights, promoting inclusivity, and breaking gender stereotypes in Indian society.
Diandra Soares is an Indian supermodel, fashion icon, and LGBTQ+ advocate. She gained prominence in the Indian fashion industry in the late 1990s and early 2000s, known for her striking looks, bald head, and androgynous style. Diandra broke conventional beauty norms and challenged stereotypes with her unique appearance and fearless attitude.
Diandra Soares has walked the ramp for top designers, appeared in fashion magazines, and worked with renowned photographers. She has been a trailblazer in the industry, advocating for body positivity, self-acceptance, and individuality. Diandra has been vocal about her own struggles with body image and has used her platform to inspire others to embrace their uniqueness.
Alok Vaid-Menon, who goes by the name Alok Menon, is a non-binary writer, performance artist, and LGBTQ+ advocate based in the United States. Menon gained prominence through their work in challenging gender norms, advocating for transgender and non-binary rights, and discussing issues of race, beauty standards, and identity.
Their work has gained recognition in the LGBTQ+ community and beyond, earning them a significant following on social media platforms. They continue to use their platform to advocate for LGBTQ+ rights, inspire self-love and acceptance, and foster conversations around gender identity and social equality.
For them, LGBTQ+ fashion means degendring fashion. They promote the ideology that clothes are just clothes and should be free from gendered labels.
Sapna Bhavnani is a well-known Indian celebrity hairstylist, fashion designer, and LGBTQ+ rights activist. She gained recognition through her appearances on reality television shows like "Bigg Boss" and "India's Got Talent." Sapna Bhavnani is known for her distinctive appearance, including her tattoos and bold hairstyles.
Beyond her work as a hairstylist and fashion designer, Sapna Bhavnani is an outspoken advocate for gender equality and LGBTQ+ rights. She has been vocal about her own experiences as a bisexual woman and has used her platform to raise awareness about issues related to sexuality, mental health, and societal expectations.
Straight Person – Will straight people be able to match that level of style and aura that queer people have?
Queer/Lesbian Person – *smirk* Sorry darling. Nope. You won't.
Indian LGBTQ+ Fashion-Friendly Brands
There is a high need for fashion brands that are LGBTQ+ friendly. Just as the LGBTQ+ inclusive fashion influencers focus on spreading awareness about LGBTQ+ friendly fashion, there are brands who do the same. There are certain clothing brands that are LGBTQ+ community friendly and there are some who have clothing collections mainly for the LGBTQ+ community.
Such brands are needed so that people from these communities who are unaware of the clothing designs, arts, and textures, can become aware of them. Through these brands, many gender-fluid or non-binary people can opt for clothing options that fit them and lets them be themselves.

Here's a list of fashion brands that are LGBTQ+ friendly and inclusive.
It is a Kolkata-based clothing brand, founded by Ayushman Mitra and Jeet Shahi. Bobo Calcutta's designs often feature bold and colourful prints, combined with elements of pop culture and activism.
The name "Bobo Calcutta" is derived from the Bengali word "bobo," which means "Wild" and Calcutta, the former name of the Indian city Kolkata. The brand embraces this eccentricity and uses it as a platform for self-expression and inclusivity.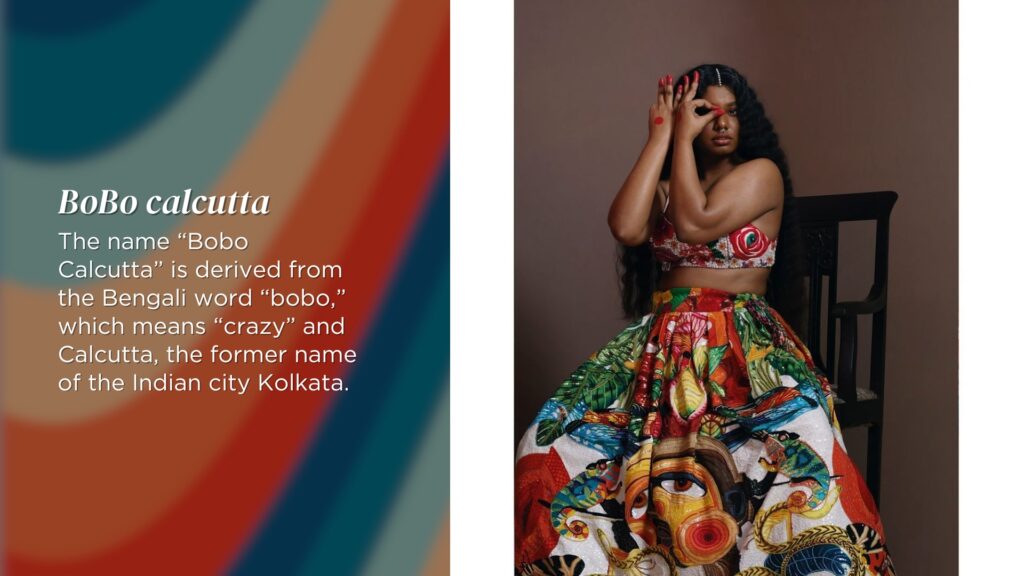 Bobo Calcutta's clothing line includes t-shirts, sweatshirts, hoodies, and other apparel items. Their designs incorporate LGBTQ+ pride symbols, queer iconography, and thought-provoking messages related to gender, sexuality, and social issues. The brand aims to challenge societal norms and break down stereotypes through fashion.
The closer you'd look at the art of Bobo Calcutta's clothing designs, you'll find that they mostly create gender-fluid faces, and through these designs, they challenge gender stereotypes and represent love.
Now, don't be a bobo. Have a look at the colourful and eye-catching designs of Bobo Calcutta.
Started by the fashion designer, Sohaya Misra, Chola the Label is a clothing brand that embraces inclusivity and celebrates gender fluidity.
Chola's designs are known for their fluidity and comfort, catering to individuals who appreciate a non-binary or androgynous style. The brand's collections often play with textures, prints, and drapes, allowing individuals to express their individuality and personal style.
As an LGBTQ+ inclusive brand, Chola aims to create a safe space for all individuals regardless of their gender or sexual orientation. By offering gender-neutral and unisex clothing options, Chola promotes inclusivity and diversity within the fashion industry.
Kuch atrangi aur satrangi sa chahiye toh yahan he jaaiye!
Bloni is a contemporary fashion brand that was started by founder Akshat Bansal in the year 2014. The fashion brand incorporates elements of gender-neutral and LGBTQ+ fashion into its designs. They often feature unique silhouettes, experimental cuts, and bold colours. The brand challenges gender norms, creating inclusive clothing for individuals of any gender identity or expression. Their collections often emphasize fluidity, inclusivity, and self-expression.
The brand uses archival textiles and biomaterials to design such apparels that promote future thinking. The brand aims at designing a more open, free, inclusive, and diverse future by making such designs.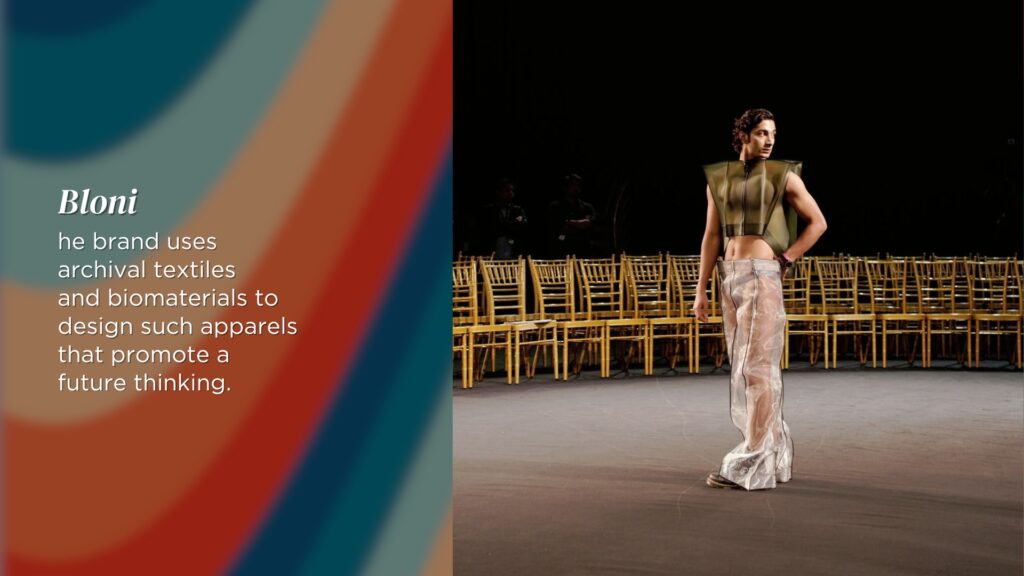 Bloni is also known for its commitment to sustainability and ethical practices. The brand focuses on using eco-friendly materials and adopting responsible manufacturing processes, aligning with a broader movement toward conscious fashion.
Eco-friendly fashion ka zaaman chal raha hai guys, aap bhi pasand karlo kuch.
The brand LGBTQ+ fashion clothing brand Vulgar was started by designer Akshay Sharma at the end of the year 2021. Vulgar, a new brand, has quickly gained recognition among the LGBTQ+ community despite being relatively new.
With their motto, "Forward Fluid Futuristic", they are aiming at making clothes that are inclusive and gender-fluid. The clothing collection of Vulgar includes designs that promote LGBTQ+ pride that aim at removing age-old gender stereotypes.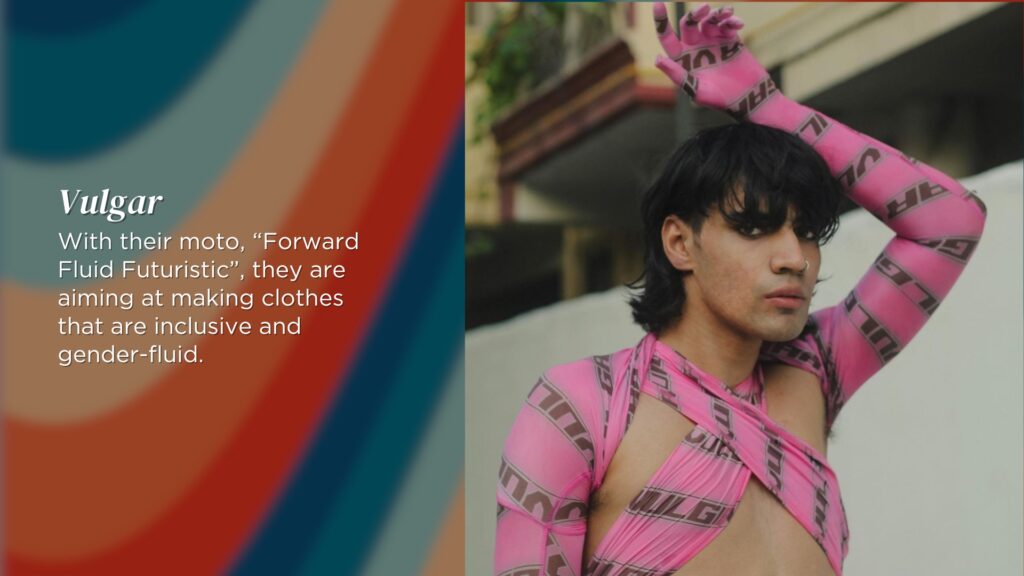 The founder Akshay Sharma knew that in India, people were still looking for and designing clothes with the binary concept of femininity and masculinity. Hence, during the peak lockdown in India, he came up with the idea of making more fluid clothes. The founder Akshay and his brand Vulgar combine these feminine and masculine fashion ideas into one single concept, and through this, they only want people of the LGBTQ+ community to freely express themselves.
Theek hai, brand ka naam Vulgar hai par yaar inke kapde acche hai. Go go, check them out now!
LGBTQ+ fashion is no joke
LGBTQ+ fashion empowers and enables people worldwide to express their identities confidently and without judgment. Influencers provide style tips on social media platforms. Many brands cater to the LGBTQ+ community, allowing them to choose clothes that reflect their colourful identities.
To all the people who are still new to this community, go ahead and choose what you like and tell everyone else that Ye Bhi Theek Hai!
If you're an influencer from this community, we would love to know more about LGBTQ+ fashion so, connect with us.